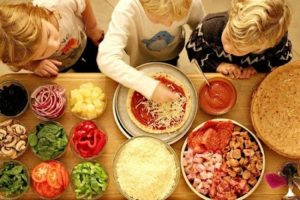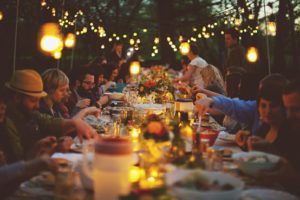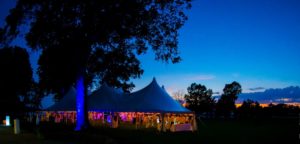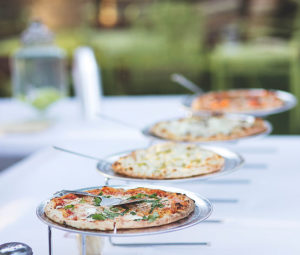 A Catering Concept to Satisfy them All
PUBLIC EVENTS
Our mobile wood fired pizza oven can be a great addition to any farmer's market or community events which is looking to provide their guests with a delicious meal or snack option. At 900 degrees, our pizzas are cooked fresh, hot, and under 2 minutes which dramatically reduces average fair wait lines.
All pizzas are 10 inch pies, assembled and cooked to order and cut into 4-6 pieces. Our "Classics" selection which include cheeses, meats, and/or vegetables, along with 2 specialty pizzas are normally available. Vegan options can also be made available.
We believe in supporting our communities and work with nonprofit organizations in supporting their local missions.
Contact Us to discuss your event.
PRIVATE EVENTS & CATERING
"Bringing our 900 degree wood fired oven to you"
Make your next event memorable with Embers Mobile Wood Fired Pizza & Catering. From the casual backyard gathering, corporate event, or formal wedding and rehearsal, our unique wood fired oven will set your next event apart. We bring the fun and feast to you. Catering is available year round
Graduations
Cocktail Parties
Corporate Lunches & Events
Weddings
Rehearsals and Receptions
Grand Openings
Humble Gatherings
There is a minimum charge for all private parties, however there is NO minimum amount of guests needed to book an event. We can accommodate events of all sizes serving delicious wood fired artisan pizzas and cooked onsite in our 900 degree mobile oven.  Complement the service with various appetizers, gourmet salads, classic desserts, and our signature drinks.
All private events are set up buffet style serving 13" pies so that your guests will be able to sample as many slices as they desire from the selection of pizzas you choose. Customized items may be added to the menu to enhance your catering package. Please contact us for additional information.
With the assistance of our full service catering associate, Embers is capable of taking care of more than just food and service staff. We can also assist you with the necessary rentals, specialty linens, floral arrangements, liquor, and wine.
All bookings require a 50% deposit in order to secure your date. There may be a travel fee dependent upon the distances traveled for our equipment and staff beyond our home in St Charles County.
The 2016 summer season is fast approaching, so don't delay in planning your special event or celebration.
Contact Us with any questions or visit or FAQ section for additional information to get started.
Pricing
Catering Packages:  
Our catering pizzas are 12 -13 inches in diameter and cut into 8 slices served buffet style. In addition to our "Classic" toppings, various specialty and signature pizzas are but may be limited based on your event size and time requested. Vegan and gluten free options are currently available and pricing can be discussed during your meeting with Jill when you provide your gatherings details. Your final price will vary based on any premium pizza selections with rates averaging $20-25 per person for all this fun.
Please see our FAQ section or Call with any questions you may have regarding pricing or to schedule Embers for your next special occasion.
Up to 30 Guests -                 $650 - 1.5 hours serving time 
31-50 Guests -                   $1,000 - 2 hours serving time
51- 75 Guests -                  $1,250 - 2.5 hours serving time
76-100 Guests -                $1,500 - 3 hours serving time
101 + Guests -                   Quoted - 3 hours serving time
* * Larger parties requiring more than 100 pies are quoted upon request. Some services may need to be adjusted due to venue restrictions or time available.  Contact Us
Our catering prices do not include local or sales taxes but will be calculated in your final quote. To secure your future date and time, all bookings will require a 50% deposit with final payment due prior to your event. There may be a travel fee dependent upon the distances traveled for our equipment and staff beyond our home in St Charles County.
Our catering packages include the necessary paper and utencil products and serving staff necessary for the 90 minutes to 3 hours of service. Some events may require additional staffing depending on the size and length of your event. Any additional staffing and hours of service will be added to the final invoice.
Additional Items to consider;
Salad:                    $3.50 per person
Beverages:          $2.00 soda, $1.00 water
S'mores:               $3.00 (3 per order)
Pretzels:               $3.00
Dessert:                $3.50 per person   -
GRATUITY:        An 18% staff gratuity is not reflected in our pricing and will be added to all final pricing.