Our Story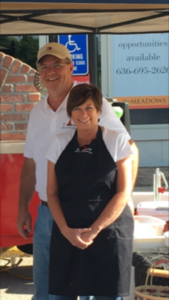 Buongiorno!
We are Jill and Steven Pine and are excited to introduce our mobile wood fired pizza & catering business, Embers, to the St Charles County and surrounding communities. We moved from south of Boston to Wentzville in 2004 where we have made many new friends as we watched our community virtually double in size.
EMBERS was born from our joy of cooking, entertaining, and sharing good food with our family and friends. In addition to the aromatics and culinary experiences shared, those gatherings have produced many memorable times and is what has sparked this journey.
Unlike many mobile food vendors, we are not a food truck. Our mobile oven unit takes minimal setup space and becomes a conversation piece which fits within most formal and informal entertainment settings. Our artisan pizzas are hand made to order and cooked in under 2 minutes. We utilize local hardwoods as our heat source to obtain the 900 degree cooking temperatures necessary for true Neapolitan Pizza and use fresh local ingredients when available for the finest flavors.
Whether you desire a fresh new idea to boost an already established event or are looking to create conversation at your next private party or humble gathering, Embers can set your event apart from the rest. The combination of those smoking aromas, great food, and the enjoyment of gathering around a fire in conversation, is what brings us all together!
We hope you will consider Embers Wood Fired Pizza for your next special event or humble gathering.
Molte grazie,
Jill and Steven